How can we help
Find advice and answers from our support team fast or get in touch
We work to ensure your tech is given the best care and protection, all while refining your everyday experiences
Email us : service@heycheese.net
DM us on Facebook:@heycheese.net
Let's Ask Us Questions
NFC Enabled Devices
Anyone can use Cheese, these are just the devices that will read the NFC chip in Cheese. Note: Nearly every phone can read the QR code on Cheese Cards, even if they can't read the NFC chip right away! Another note: Many Androids are compatible but just need to enable NFC in settings.
Compatible mobile phone models
iPhones: iPhone XR iPhone XS iPhone XS Max iPhone 11 iPhone 11 Pro iPhone 11 Pro Max iPhone SE (iPhone 7, iPhone 8, iPhone X must use the Heycheese app to read your Cheese) all future iPhones 
Pixels: Pixel Pixel XL Pixel 2 Pixel 2XL Pixel 3 Pixel 3XL Pixel 3A Pixel 3aXL Pixel 4 all future Pixels 
Galaxy: SIII S4 S5 S6 S6 Edge S6 Edge+ S7 S7Edge S8 S8+ S9 S9+ S10 S10 5G S10+ A20 A20e A30 A50 A51 Galaxy Fold Galaxy Fold 2 all future Galaxies 
Samsung: Note 8 Note 9 Note 10 Note 10+ all future Samsungs 
HTC: One M9 Desire 10 Pro Exodus 1 U11/Life/+ Desire 12/12+ U11 Eyes U12 Life U12+ U19e 19+ all future HTC phones 
Huawei: P10 P10 Plus P10 Lite P20 P20 Pro P20 Lite P30 P30 Pro P30 Lite all future Huawei models 
LG: G3 Nexus 5X V10 G4 K10 V20 G5 G6 V30 V35 ThinQ Q Stylus Q Stylo 4 V40 ThinQ V50 ThinQ 5G Q8 Q7 G7 ThinQ G8 G8s ThinQ Q9 One all future LG phones 
Xiaomi: Mi Mix Mi Mix2 Mi Mix 2S Mi Mix 3 Mi5 Mi5s Mi5 Plus Mi6/X Mi6 Mi8 Mi8 Lite Mi8 Pro Mi9 Mi9 SE all future Xiaomi phones 
Nokia: 3 5 6 8 8.1 6.1 8 Sirocco 7 Plus 5.1 9 PureView all future Nokias 
OnePlus – One, 3, 3T, 5, 5T, 6, 6T, 7, 7 Pro, 7 Pro 5G, all future OnePlus phones 
Motorola – Moto P50, Moto X4, Moto Z3, Moto Z3 Play, all future Motorolas 
Sony – Xperia XZ1/Compact, Xperia 1, 10/Plus, Xperia XA1/Ultra/Plus, Xperia XZ2/Compact/Premium, Xperia XA2/Ultra/Plus, Xperia XZ3, all future Sony phones 
Essential – PH, PH-1, all future Essential phones
Does "tapping" my Cheese work with every phone?
💡Nearly all phones are NFC compatible now and work without the need for an app! Here's a full list of NFC compatible phones:
• Nearly all Android phones are compatible!* (They were way ahead of Apple with NFC)
• iPhones – XR, XS, XS Max, 11, 11 Pro, 11 Pro Max, SE
• *iPhone 7, iPhone 8, iPhone X must use an NFC compatible app like Linq App below to read the NFC chip.
*If your Android phone isn't reading the device: 1) Tap on "Settings" 2) Select "Connection Preferences" 3) Turn on "NFC" option
How do I activate my Cheese?
With most phones, you can simply tap your phone to your product to activate it. If this doesn't work for you immediately, check out each of our pages below for more information about how to activate each product specifically!
How to pop your info to an older iphone(7,8,X))
To pop to an iPhone 7, iPhone 8 or iPhone X, you must use the NFC reader in their control center! See the image below for how to activate this:
My Cheese is sending me notifications constantly
Use the diagram below as a guide to where you should place your Cheese to avoid constant notifications!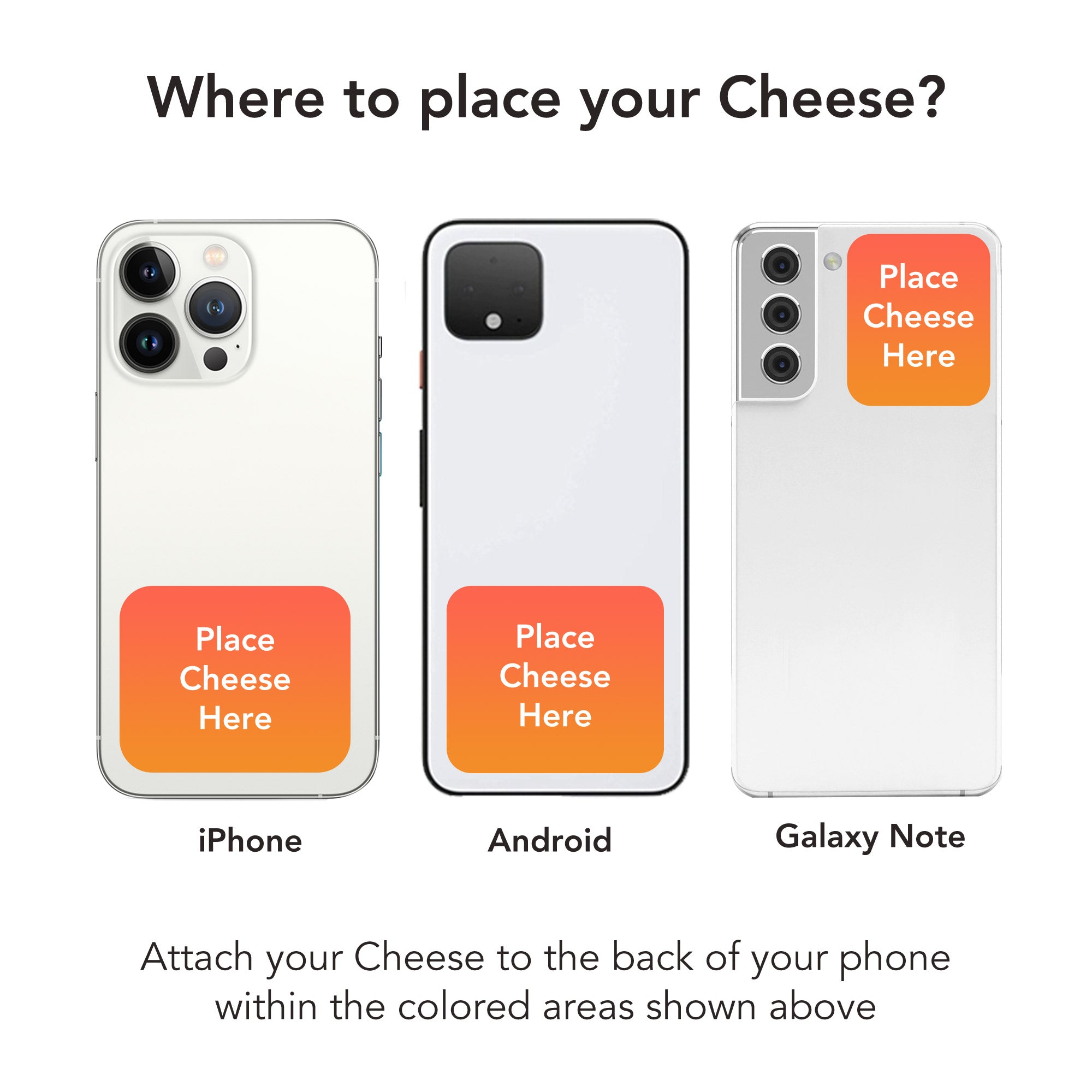 Where on my phone should I place my Cheese?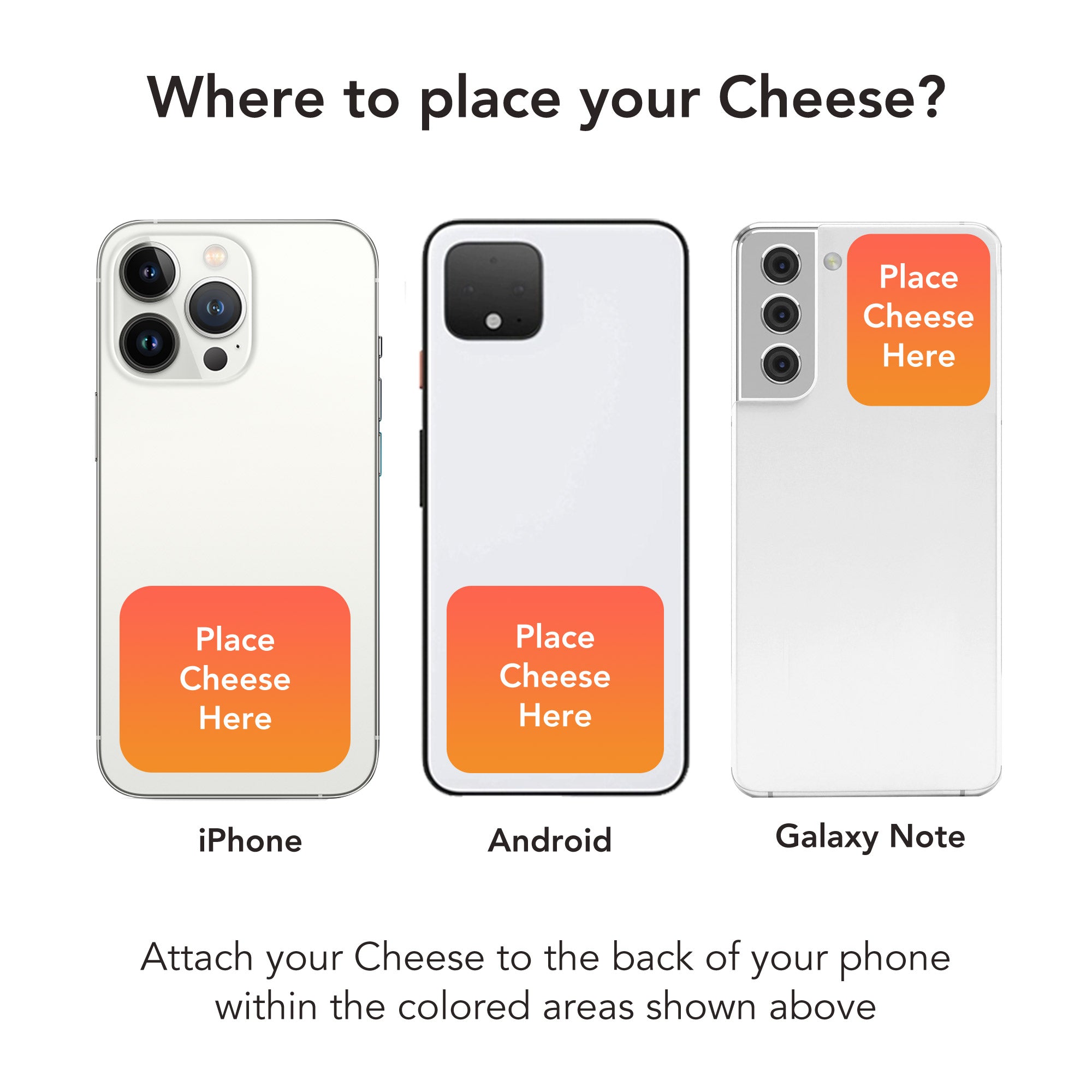 Does a Cheese have to be placed on my phone?
No! Cheese can be placed anywhere you want. You can put a Cheese: 
 - on your laptop 
 - in your car 
 - on a restaurant table 
 - in your office 
 - in an open house 
 - the possibilities are endless! 
 The Cheese doesn't communicate to the phone it is on, it communicates to the phone it is sharing info to.
Does the other person need a Cheese or an app to receive my info?
No!Receivers are not requested an app or a Cheese to receive your info.
If their phone is on this list of compatible devices you can pop to their phone. If it is not, just use your Cheese QR code on your profile to share!
Can I have multiple Cheese devices linked to One account?
Yes you can! With the HeyCheese app, you can activate as many Cheeses as you want with the same account. Just log into the account you want to activate your Cheese with and tap "Touch me to activate" in the card you settings!
We've had users put Cheeses on their laptop, in their cars, in their offices, etc.
Will my Cheese works under my phone case?
Yes! Cheese will work through 99.9% of phone cases, including ones that hold credit cards. The only exception would be if your case has a layer of metal.
How do I share with non-compatible phones?
iPhones as old as the iPhone 5S and almost all Androids can use their camera to scan your Cheese QR code. Your Cheese QR code can be found by tapping the QR code button on the top right of your profile on Heycheese app. You can even add your Popl Card to your Apple Wallet for easy access!
You can also share your profile via text, airdrop, email or any social network by sharing the link to your Popl profile.
Will my Cheese interfere with my wireless charger?
As long as your Cheese Sticker is placed away from the charging area of your phone (an iPhone's MagSafe ring for example), wireless charging should not have any effect on the device. But if a Cheese Sticker is placed within the charging area or close enough to it, the Cheese Sticker may stop working.
We recommend placing your Cheese Sticker on the back of your phone as far away from your wireless charger as possible to avoid this!